Kenai River Fly Fishing at its Best
Kenai River Trout Anglers is your select Kenai River Fly Fishing guide service for trout and salmon on the world class Kenai River.  Located in beautiful Cooper Landing, Alaska, we offer daily drift boat trips through the Kenai National Wildlife Refuge and the Chugach National Forest.  This area is known for it's scenery, wildlife, and phenomenal fishing, which brings people back year after year. A fishing adventure with Kenai River Trout Anglers is your professional choice to experience Alaska's best!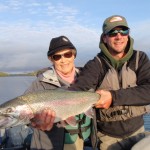 Sportfishing the Kenai River
The Kenai River is home to some of the best sportfishing on the planet. If you're looking for fly fishing, spin fishing, trout, or salmon fishing, this is the place! With over fifteen years of drift boat guiding experience, Kenai River Trout Anglers has got you covered. We offer daily drift boat trips on the famous upper Kenai River, as well as the the Kenai River canyon. We also offer Kenai River Fly Fishing trips on the middle and lower river. You will be fishing with some of the best Kenai River Fly fishing guides, who have been on the water almost everyday, for the past 15 to 20 years.

Read more reviews on Trip Advisor.
 "Kenai River Trout Anglers provides an excellent fishing experience for the seasoned fly fisher and the beginners. We caught a number if fish, some big, and it was a pleasure spending the day with JJ!" Mdietz1

"We couldn't have been happier with our fishing trip on the Kenai. We caught trout all day, and some salmon towards the end of our trip. JJ provided excellent service, and had a mastery of the river. Would highly recommend." Andrew P

"We could not have asked for a better guide to show us the ropes. This was an event on my son's Make A Wish Trip. My unsteady son was in good hands! He fished and had the time of his life. My husband I were happy to fish the day away with our excellent guide. Would love to do it again sometime!" Julie Z